UK-based theatre director and writer Monique Touko and Zimbabwe-based creative, poet and director 'Lady Tshawe' (Nomashawekazi Damasane) will lead the all-female creative team who will work together to create workshops, writing provocations and direct performances; working online to plan and evaluate workshops.
Both producers from Nhimbe and the Lyric have worked together since 2015 but this will be the first digital collaboration and is new learning for all involved.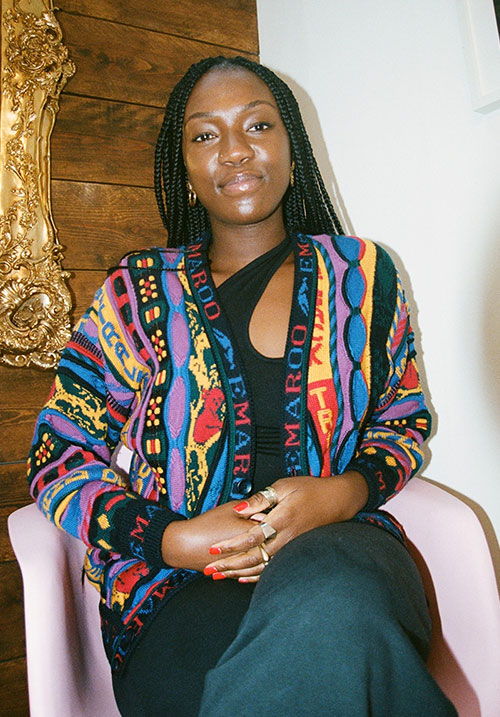 MONIQUE TOUKO
Monique Touko is a London-based multidisciplinary artist working in theatre, radio and film with many credits to her name. She is a theatre director, and her directing training includes Regional Theatre Young Directors Scheme at Royal Exchange Manchester. At the Young Vic (London), her training has involved the Intro to Directing course led by Sacha Weres, Boris Karloff Trainee Assistant Directors Programme and the Jerwood Assistant Director Scheme.
A producer in film and music videos, Monique's credits include an independent project for Franklyn Lane Film Productions. She is also part of The Ubunifu Space - A definitive guide to music and culture from the youth of Africa and the diaspora - the Ubunifu way. Monique is Partnership Manager and Assistant Producer for Ubunifu Radio as well as a regular member of the UK reaction team on the youtube channel which has a global following of 270K+ subscribers and over 40 million views.
Monique said: "Here, There, Now provides a great opportunity for young Black women to not only develop skills in playwriting, creative writing and performance but also to explore their identity in their home country and empathise with those based in their partner nation. I hope they will feel emboldened through this exchange of ideas and feel a strengthened sense of community. Personally too, Bulawayo is the birthplace of my Mother and a place I hold dear to my heart. The opportunity to make and create cross-culturally particularly at this time is beyond exciting. In addition, being a Black woman is beautiful and complex and exploring it in this way in the shadows of Black Lives Matter feels right and highly nourishing. I'm looking forward to seeing what we create."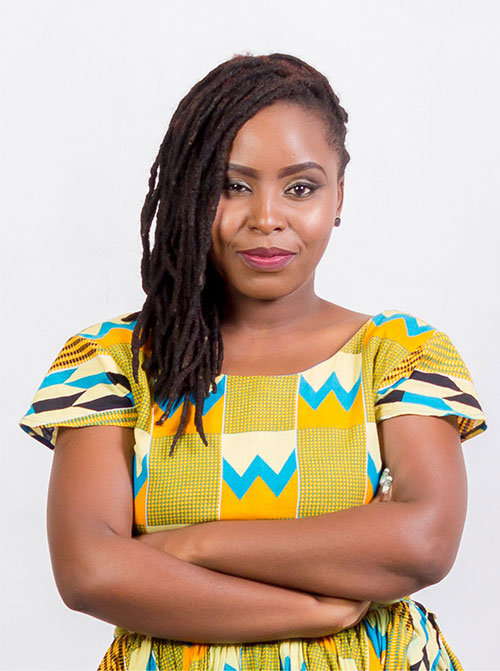 LADY TSHAWE
The multi-talented award-winning artist LADY TSHAWE (Nomashawekazi Damasane) is the Zimbabwe Director for HERE, THERE, NOW. Her artistic style, expression and image embody her abilities, aspirations and achievements. She is a force whose convictions and views about equal opportunities for self-expression influence her writing, theatrical roles, music and conversations.
She advocates for expressing herself as a person, which is far from the need to be afforded privileges because she is a woman. She aspires to influence the performing, entertainment and research sectors globally.
Lady Tshawe has performed in numerous theatre productions in and outside the country such as Zambezi Express, Tellers: The Musical and Blood Tongue which saw her win best theatre actress in 2018 at Bulawayo Arts Awards (BAA), to name but a few. Also in 2017, she was selected as the Zimbabwean Scriptwriter for the Zimbabwe/UK collaboration 'Unified Women' under Nhimbe's WiTT programme. In 2019 she wrote and directed her first theatre production '6.55' which won the 2020 BAA Best Theatre Production.
Tshawe is a holder of a BA in Drama and Ethnomusicology from Rhodes University and is currently studying towards her MBA. She is a committee member of the International Theatre Institute (Zimbabwe).
She said: "I am excited and honoured to be given this opportunity to be a part of this project. I am particularly looking forward to seeing how the young ladies interact with the topics and with each other using the 'new normal' format of work being done online. This exchange, I believe, will not only foster working relationships but will inspire the participants to explore and challenge themselves creatively."